Here is the first shower that engages all five senses…
Not to mention your practical sense!
Discover the French-style shower
A few minutes
of paradise every day
Step into a bubble of enveloping scented droplets, at the perfect temperature … Tune in to the music that perfectly matches your mood … in a beautiful shower space, set up in just a few hours.
We dreamt about it, just like you.
We designed and manufactured it with you in mind.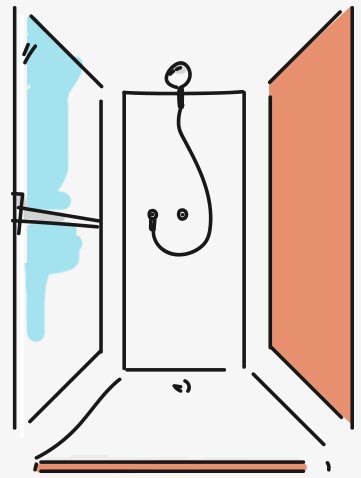 Elmer simply
reinvents the shower
Between a beautiful walk-in shower whose cost and work are quickly increasing, and one of those prefabricated shower cabins that all look the same, can't we imagine a new concept? Design, customizable, easy to install?
We have let time work… together with the best experts. We have reshaped our entire SME to reinvent a "French style" shower for this innovative, amazing and exciting project.
Thus, ELMER, the first "French style" shower was born!
ELMER versions
ORIGINALE

ACCESSIBLE
ORIGINALE
12 colours and finishes available
Aurajet ™ « micro-droplets » technology showerhead
Customize your ELMER
Granite

Marble

Pine wood

Carbon gray
ACCESSIBLE
12 colours and finishes available
Aurajet ™ « micro-droplets » technology showerhead
Aurajet ™ technology head shower
Comfort package (seat, access ramp and handrail)
Customize your ELMER
Granite

Marble

Pine wood

Carbon gray
Précédent
Suivant
ELMER
directly at your door
Delivered to your home with necessary material.
Setup
in less than 3 hours
No need for heavy construction work, everything is ready to be installed. In less than 3 hours it's all set! (in the video, it took even less time but our technicians have lots of practice)
I install ELMER all by myself
ELMER was designed for a do-it-yourselfer to install it easily with someone's help to carry the heavy panels. You will receive a box with extremely details instructions. DIY videos are available online. Our technical team is also available just in case.
Ready?
Even
more simple
ELMER can also be installed by one of our approved plumbers (still in less than 3 hours), while you watch. The package starts from 500€. Yes, pretty tempting…
Yes, pretty tempting…
In short, Elmer changes everything
even the way you can purchase and install it

You choose, you customize, you buy it online, it's convenient and fast Installing Elmer in 3 hours
(or maybe a little longer if you do it and you can't remember where the driver drill is…)
is simple

Fast home delivery is pleasant

Setting up, taking apart, maintaining ELMER, adding options…
It's all been planned.
Reinventing happiness under the shower, doesn't happen by itself, nor in a day…
It's not every day that a company completely rethinks the shower from its design to delivery, installation, and maintenance. After 21 months of research, weeks of meetings, countless design ideas, and 15 prototypes, our team at ELMER has done just that.
Our entire SME got mobilised, working together in a perfect "Start Up" spirit.
The best designers, planners, experts and us have also set up a network with innovative young companies whose ideas we would have liked to have (so we decided to work with them).
AND YOU, since everything has been tested, discussed, reworked with our customers. You told us what you liked, and what you thought was unnecessary. We corrected and reviewed it to offer you the best.
They are talking about Elmer
… Tested and approved
by you