Elmer design
It's not every day that a company completely rethinks the shower from its design to delivery, installation, and maintenance. After 21 months of research, weeks of meetings, countless design ideas, and 15 prototypes, our team at ELMER has done just that.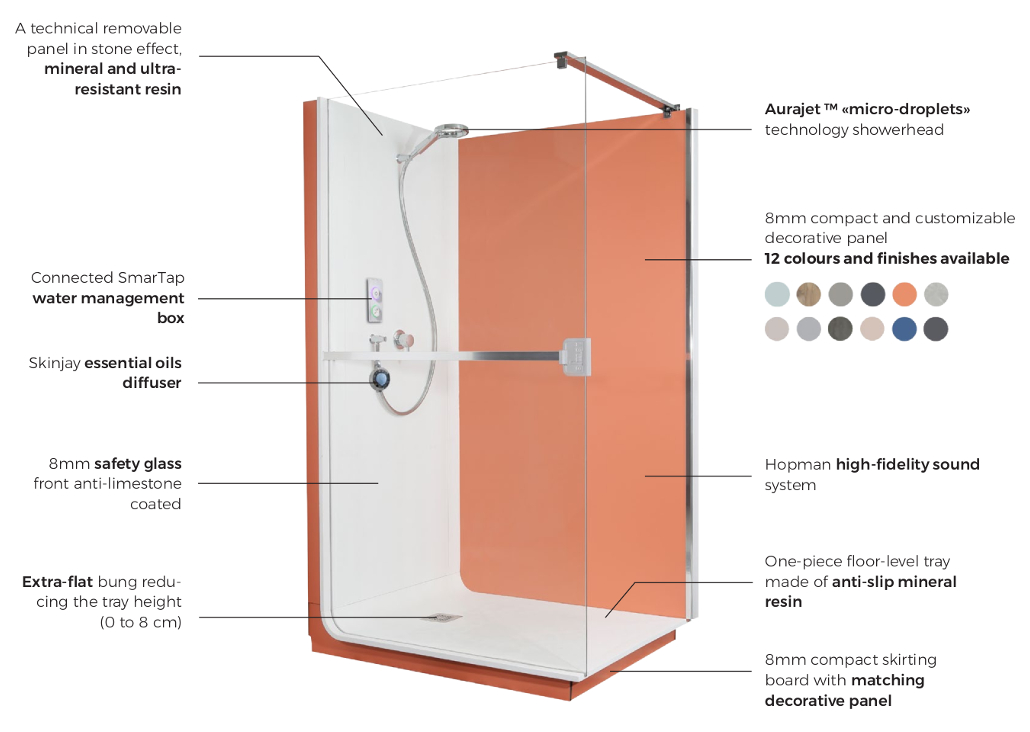 Loïc Berthelot, voted best plumber of the year, approves.
« ELMER can be installed easily and totally safely. The system does not allow for leaks. I have carefully written the instruction manual just for you. »
Loïc Berthelot - Best plumber of the year
Installation in
less than 3 hours

Installation/implementation
Installation and implementation
Installation in 3 hours
Easy assembly and installation of parts (fitting into tray groove, self-blocking parts, safe pins, wall brackets)
Wall brackets to level out any wall irregularities
Application of foam adhesive joint for easy and waterproof efficiency
No silicone needed for assembly
Maintenance, access and service
Removable technical panel for maintenance
Smart pin system allowinf for fitting and blocking of technical panel with metallic frame
Hot and cold water shut-off valves for quick maintenance (no need to shut the general water off)
Glass with antilimescale treatment on both sides
Shower head: lifetime warranty
System and parts: 5 years
Hardware and repair parts in stock
Shower now, pay later!
You can start showering right now and pay later, with no extra fee.

Payment
in 4 installments, no extra fee
Make the first payment upon order. The following payments will be debited directly from your account, with no extra fee.

Pay
now
Secured full payment